The Republic of Slovenia is a Central European country located between the Alps and the Adriatic Sea, bordering Italy, Austria, Hungary and Croatia. Its approximately two million inhabitants live on an area just over 20 000 square kilometers. It is a country of great cultural and natural diversity concentrated in a small area, sometimes dubbed "Europe in Miniature". Over two thirds of the country are covered by forests, making it an attractive green destination. Slovenia joined the EU in 2004, adopted the euro in 2007 and is part of the Schengen area from 2007.
Ljubljana is the capital of Slovenia and its largest city, with a population around 300 000 people. The area has been settled since at least around 2000 BC and is rich in history. Due to its relatively small size it is easy to navigate and most of the main sights can easily be accessed from the city centre on foot. The city is organised around a lively historical town centre by the river. The city is generally very safe (but the usual common sense precautions apply).
The meeting will be held at the Biotechnical Faculty (University of Ljubljana). The address of the Biotechnical Faculty is: Jamnikarjeva 101, Ljubljana. You can reach the Faculty on foot, by city bus, by bicycle and by taxi.
Pedestrian map
The approximate time from the center of Ljubljana to the Biotechnical Faculty, where the meeting will take place, is 40 minutes on foot.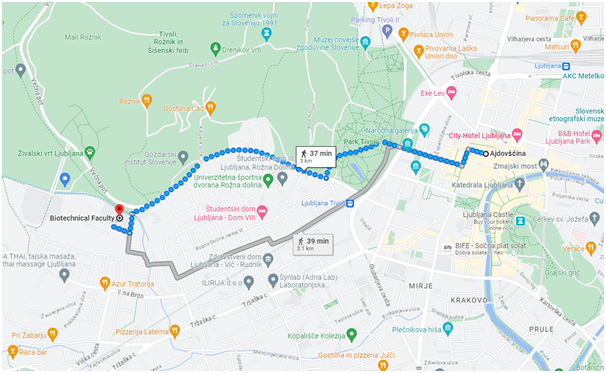 City bus
To use the buses you will need to obtain the Urbana City Card, which is a no-contact smart card, allowing quick and convenient cash-free payment for rides on Ljubljana city buses (LPP). The Urbana card can also be used to pay for cable-car rides to the Ljubljana Castle, parking fees for white zones and parking lots managed by Javno podjetje Ljubljanska parkirišča in tržnice as well as the services of the Ljubljana City Library.
Price for a single ride with Ljubljana city buses (LPP) with free transfers within 90 minutes is 1,3 EUR (purchase of an Urbana card is 2 EUR). Rides can only be paid for with Urbana and not with cash or credit cards.
You can purchase the Urbana City Card at Urbanomat, there are many of this points of of sale (´prodajna mesta´) in the Ljubljana city centre.
Users of the Urbana City Card can install the new Urbana mobile app on their Android or iOS smartphones, which shall serve as a virtual card. The app offers a friendly and simple user experience for smartphone owners with Android 6.0 or higher and iOS 13.0 or higher operation systems.
To obtain the Urbana City Card you have to register at https://urbana.jhl.si/en.
Mobile application Urbana – instructions: https://www.lpp.si/sites/www.jhl.si/files/dokumenti/instructions_for_the_new_urbana_application_3.pdf
Ljubljana public transport:
Bus lines:
https://www.lpp.si/sites/default/files/lpp_vozniredi/iskalnik/index.php?stop=0&line=0
https://www.lpp.si/sites/www.jhl.si/files/dokumenti/lpp_map_of_daily_bus_lines_september_2023.pdf
The app for predicted arrival of busses is linked here: 
The nearest bus stops for the conference venue are:
line 14, route to BOKALCE, bus stop JAMNIKARJEVA
line 18 or 18L, route to C. STOŽICE P+R or LITOSTROJSKA, bus stop VEČNA POT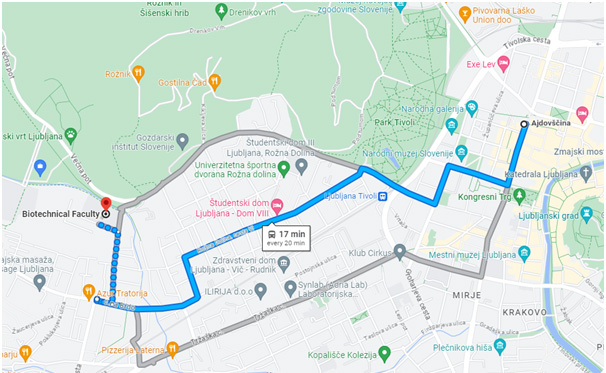 Bicycle
Ljubljana has a bicycle service called BicikeLJ (https://www.bicikelj.si/en/home). The weekly subscription costs 1 € for an unlimited number of rides (60 minutes per ride). Bicycle stations are located throughout Ljubljana. The closest BicikeLJ stations to the Biotechnical Faculty are Viško polje and Živalski vrt (circled in red).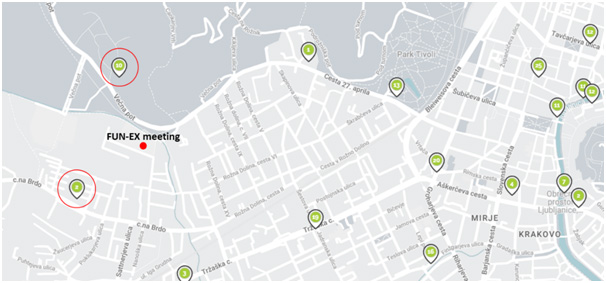 Taxis
The price of taxi from the center of Ljubljana to the Biotechnical Faculty is approximately 7 €. Some taxi services are listed below:
Ljubljana lies in the Ljubljana Basin and has a moderate continental climate. The temperature in September is between average lowest daily temperature of 11 °C and average highest daily temperature of 22 °C. September generally provides plenty of sunny days and possible occasional showers. Plan for the possibility of rain and chilly nights. The weather in other parts of the country is generally colder in the mountains and milder around the coast, with a lot of variation over relatively short distances. Further information on the climate of Slovenia can be found here.
Slovenia has adopted the euro in 2007. ATMs are numerous, especially in city centres (extra charges may apply for withdrawing cash with foreign cards). Major credit cards are widely accepted, with few exceptions.